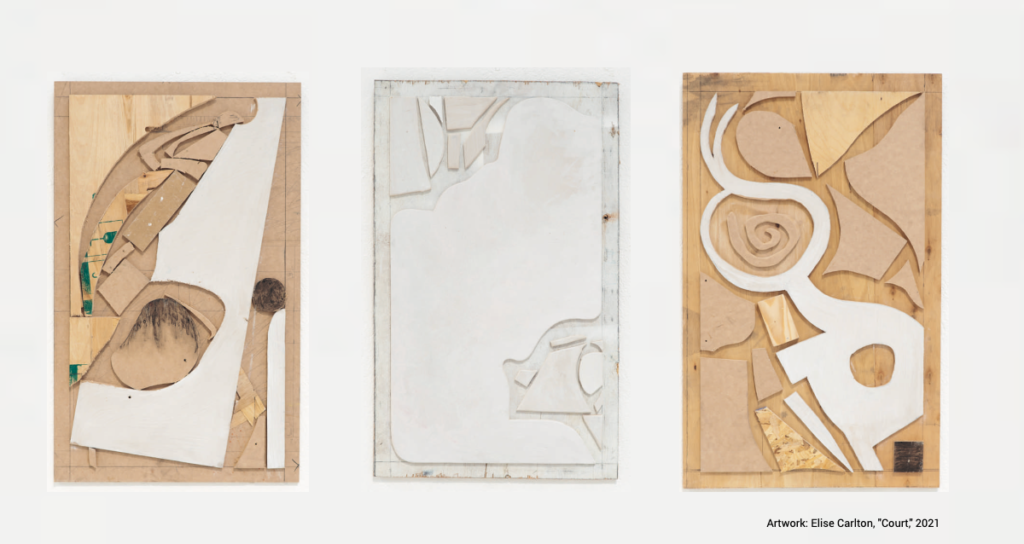 Nearly 100% of the work we publish in SAND is chosen from open submissions. Below, SAND Art Editor Alia Zapparova provides insight into the selection process and reveals what stands out in the submissions pile. In this article, Alia discusses why Elise Carlton's series "Court" was chosen for publication in SAND 24.
"The woodcuts that make up Elise Carlton's series 'Court' were created using offcuts from another work. The artist describes them as material and emotional negatives. Like photographic negatives, they have a kind of opacity, they point beyond themselves and make you wonder about the image that they could potentially reveal.
"And they're visually intriguing in their own right. The marks and forms are both simple and inscrutable. They include everyday details, such as a toothbrush, and abstract shapes that look like broken maps of unknown cities.
"The artist describes her work as dealing with non-linear narratives and themes of identity and historical amnesia, and the blend of the everyday and the abstract evokes personal and social archeologies, about ways to unearth the unsaid and unsayable, by arranging and re-arranging its fragments.
"This is why I loved this work: its visual power in the use of leftover materials and the space it opens up to reflect on the potential of the leftovers of our lives."
Elise Carlton works across mediums and genres to construct and populate non-linear, up-for-edit narratives. She explores themes of identity, duality, objectification/personification, historical amnesia and extinction, and is tied to performance. Carlton's work has been exhibited in London, Mexico City, and Lisbon, among other places, and printed in SAND, Poet Lore, Roundtable Journal, and Brenda Magazine. Carlton is originally from Texas, but since 2017 has been based primarily in Lisbon, with a stint or two in Syracuse, New York.