Submissions Open 10 April – 30 April, 2023
Founded in 2009, SAND looks for submissions that push the boundaries of form, message, and voice in fresh and unpredictable ways—work that is haunting for its soul, edge, and truth.
If you read SAND, you know that we are all about work that subverts. Fresh can be slow, sensitive can be rough, bold can be quiet. SAND is eclectic and publishes writing that takes risks, whether subtly or overtly, with voice, structure, character, or language. 
SAND is made by a diverse international team in Berlin, and we welcome submissions from a range of perspectives, especially from writers and artists who are BIPOC, LGBTQ+, nonbinary, women, disabled, neurodiverse, working class, migrants, refugees, international, and/or geographically underrepresented. 
Most of us editors are also writers, and we know how it goes. That's why we consider every submission, why we welcome both emerging and established talents to submit, and why we have a free submission option for those that need it.  
This is also why we've worked very hard to make SAND a paying market. We currently pay semi-professional rates which vary based on our funding. (All revenues from submission fees go directly to paying the writers and artists we publish.)
The best way to get to know if your work is a fit for us is to read issues of SAND, read select pieces from the archives at SAND ONLINE, and check out our Instagram, YouTube, Facebook, Twitter.
GENERAL GUIDELINES FOR ALL GENRES
Submissions will open 10 April – 30 April 2023.
We accept previously unpublished poems, fiction, flash fiction, translations, and visual art. Creative nonfiction is not open at this time.
Submit fiction, flash, and poetry as early as possible. There is a submissions cap on these genres to manage our all-volunteer editorial team's time, so these genres may close early. 
We only accept work that is the creative effort of humans with lived experience. While we are open to work that has experimented with and incorporated technology in creative ways, we are not open to work that has been fully or mostly written by AI (artificial intelligence). All submitters will be required to confirm and fully disclose the role that AI and other non-standard technologies have played in the creation of their submitted work.
Work forthcoming in a book, including stand-alone excerpts, is acceptable, as long as it appears in SAND before the book's publication date. We ask for worldwide First Serial Rights. (Rights revert to you after publication.)
Simultaneous submissions are welcome, but please inform us as soon as possible if the work has been accepted elsewhere.
You may submit in multiple genres, but you may only submit once per genre.
Please allow six months for a response before sending an inquiry.
We ask past contributors to wait at least two issues before submitting again in order to ensure enough space for new voices.
We pay contributors semi-professional rates which vary depending on our current funding
 POETRY GUIDELINES


Please send us poems that take interesting risks. Your weird poems, your challenging poems, your sensitive poems. Poems unanticipated.
We want poems that are attentive to their language; precise and economical. We would like to see specific and deliberate methods for setting the words on the page. If your work considers classical forms and uses them to new ends, send it. If it rejects traditional forms and forges new ones, we want it. Push the bounds of what is ordinarily pondered, and send the results our way.
Submit up to 5 pages of poetry. We will not consider submissions beyond this length.
We accept translations of poetry into English. Submitters should ensure that they have permission from the author and publisher to print the translation before submitting. (See the section on translations below.)
Please keep in mind that our journal size is A5. Due to design considerations, prose poetry that is particularly wide is likely to undergo some spatial shifts during the editing process.
There is a cap on poetry submissions, and this category might close early.
FICTION AND FLASH FICTION GUIDELINES
Send us risk-taking, subversive, experimental fiction with soul. We are especially interested in literary fiction that crosses genres, that takes risks with structure/form/voice, that subverts expectations about tropes and genres, and that includes multi-dimensional characters who represent the full range of identities in the world. To ensure your submission is right for SAND, check out the resources linked above.
We accept previously unpublished short stories, flash fiction, and translations. We do not read full novels, full novellas, or plays. We will read stand-alone novel excerpts, but only if they truly stand alone.
Writers may submit one short story (up to 5,000 words) OR a single file with up to three pieces of flash fiction (of up to 1000 words each, not to exceed 3000 words).
Do not include your name or any other identifying information on the document you submit. Your name, bio, and contact information will be recorded by Submittable and will not be visible to us during the first round of readings. Your submission document should contain only the title of the piece submitted + word count. We will automatically reject any submissions that contain identifying information.
We accept translations of fiction into English. Submitters should ensure that they have permission from the author and publisher to print the translation before submitting. (See the section on translations below.)
There is a cap on fiction and flash fiction submissions, and these categories might close early.
TRANSLATION GUIDELINES


We accept translations into English of poetry, fiction, creative nonfiction, and flash. 
We often include the original version of the poem or flash piece alongside the English translation in the journal. For reasons of space, we publish longer translations in English only.
The original work may be previously published, as long as it has not been previously published in English translation.
Permission must be granted for publication from both the author and translator and, if necessary, the author's publisher.
Please include a name and brief biography for both the author and translator in your cover letter, as well as a copy of the text in its original language.
VISUAL ART GUIDELINES
We are interested in art that has a contemporary context and makes something visible about our world – from the smallest everyday details to wider social issues. We are interested in experiments with colors, shapes, tones and textures as well as layers of meanings and stories. We would like to see work that is surprising, challenging, searching, questioning, subversive, invigorating, quiet, hesitant, sensitive, haunting, enigmatic, joyful, playful, devastating, disorienting, unruly, unsettling, ungraspable and unexpected. For more on what our Art Editor is looking, see this article.
We accept all forms of visual art, including photography, drawing, painting, printmaking, mixed media, sculpture, installation, performance and film/video stills, as well as trans/inter/multi-disciplinary work. We are interested in both full-color and grayscale images.
Artwork may have previously appeared in an exhibition or online, as long as it has not been included in a magazine, catalogue, or other print publication.
Please send 5-10 pieces for consideration, and include a link to your website if available.
An artist statement contextualizing the pieces you've submitted and/or your work as a whole is encouraged.
JPG, PNG, and TIF formats are acceptable.
All images must be at least 300 dpi and in high resolution: at least 2480 pixels tall by 1748 wide so they can potentially be printed in a full page of our magazine. Prospective cover images should be at least 2500 x 3600 pixels. (See image below.)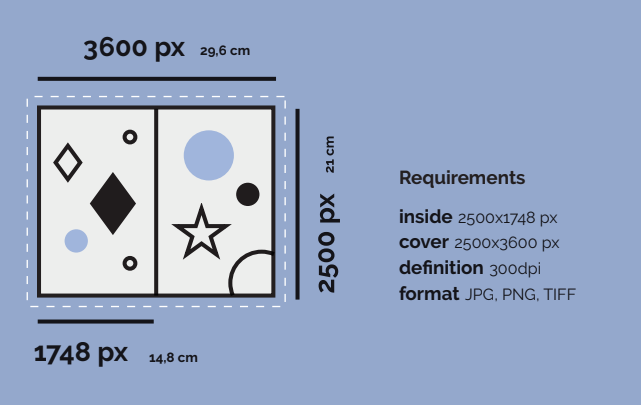 CREATIVE NONFICTION & FLASH NONFICTION GUIDELINES
Creative nonfiction is not open at this time.