We are thrilled to invite you to our virtual launch of SAND 23 on YouTube at 6:00 p.m. CET on Sunday, 13 February! (If you missed the livestream, you can watch the replay here.)
The launch will feature readings and presentations from international contributors including cover artist Larissa Fantini, flash fiction writer Miriam McEwen, poet Maeve McKenna, creative nonfiction writer Keegan Lawler, poet Sihle Ntuli, fiction translator Ruth Martin, and poet William Lessard.
You'll also have a chance to participate in our "coping mechanisms" poetry contest, win prizes, and receive discounts on SAND. Sign up for our virtual guest list to be sent the link to the virtual launch by email.
Read on for the bios of our virtual launch contributors, for previews of the work they'll be presenting, and for impressions from the SAND 23 Berlin launch, our first in-person launch since 2019.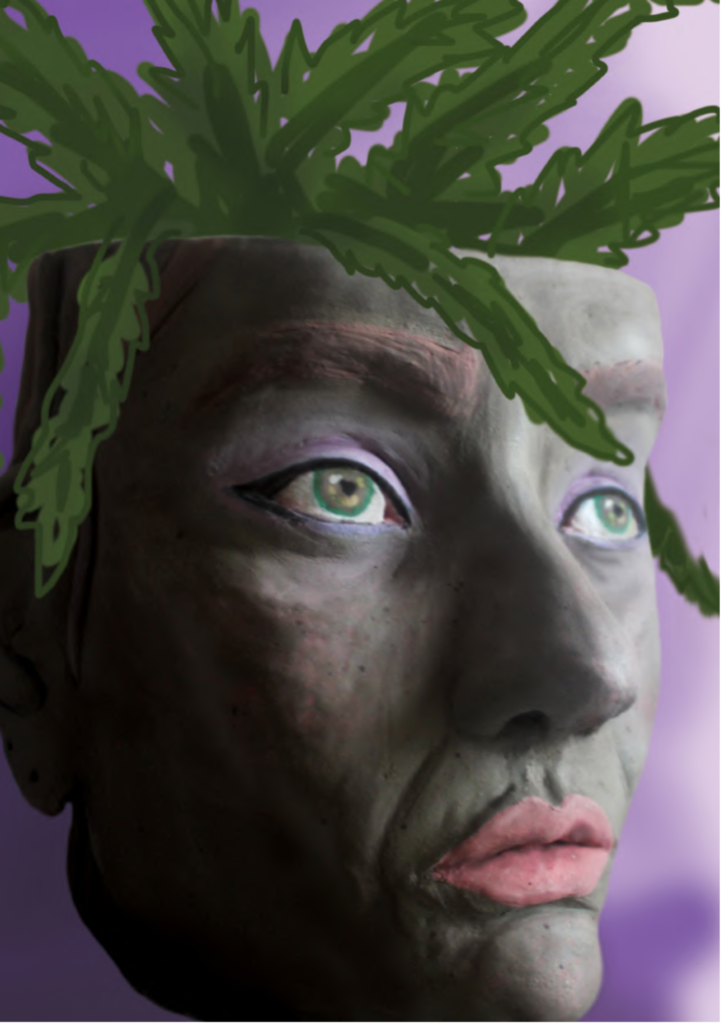 "Cabeça" by Larissa Fantini, published in SAND 23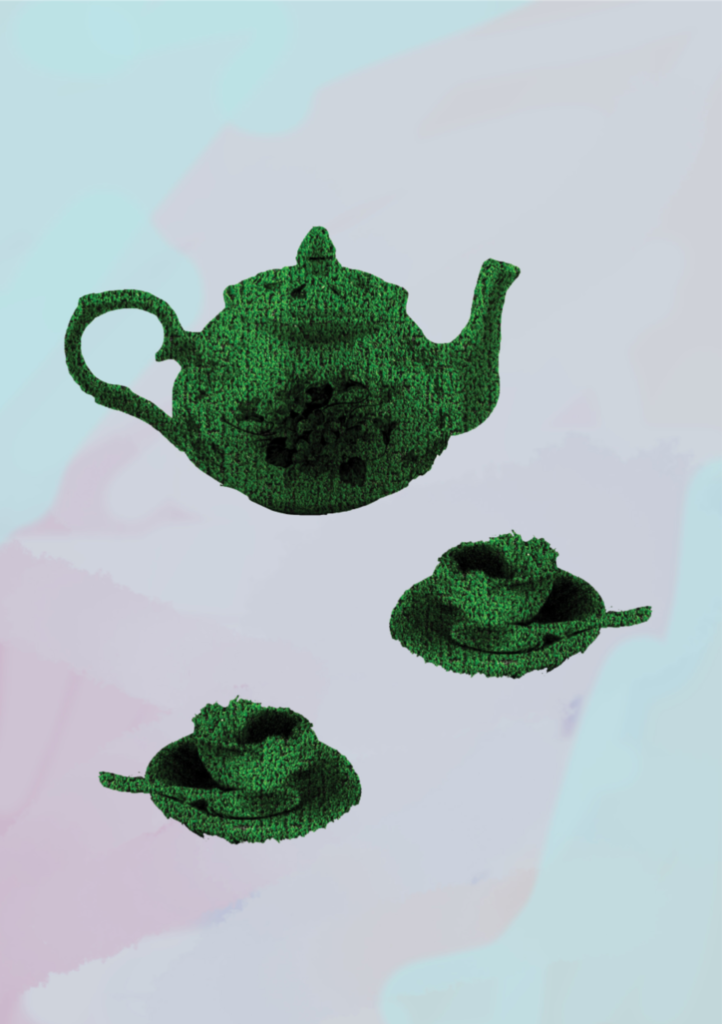 "Le Déjeuner en AstroturfTM II – 2021" by Larissa Fantini, published in SAND 23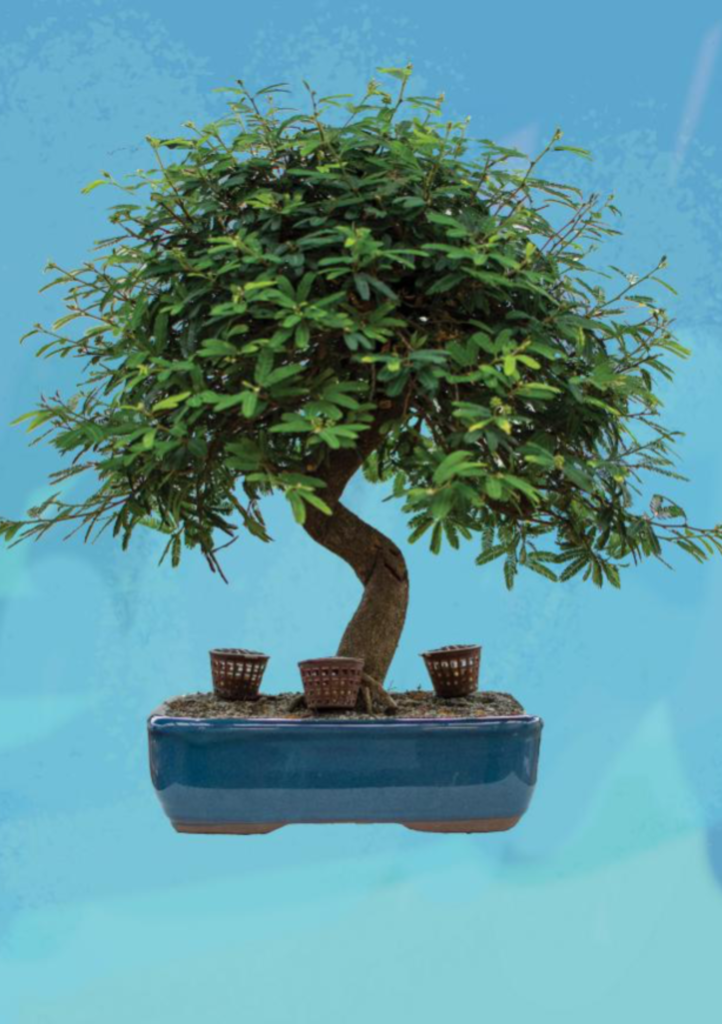 "The Last Leaf – 2021" by Larissa Fantini, published in SAND 23
THE CONTEST
At our in-person SAND 23 launch back in November, we invited guests to contribute to our anonymous coping mechanisms wall, in line with SAND 23's theme, coping.
Pick one of these coping mechanisms as your prompt and write us a poem or piece of flash in 23 words or less. The winner will receive a free SAND issue of their choice and we'll feature a selection of our favourite entries online.
Send your entry to contest@sandjournal. com by midnight Berlin time on 13 Feb!
THE COPING MECHANISMS
reading sci-fi – books & baths – shania twain – riding the ringbahn – riesling – erotic watercolours – egg content – sugary beverages and doom scrolling – pombears – blasting joni mitchell & singing along even louder – watching bbc election results coverage from the 1990s – cleaning the windows – filling things with spaghetti in photoshop – tarot cards & wine & cats – erotic fan fiction – chocolate for everything (sugar free) – cocooning day & night – improvising artistically – praying 5 times a day – food & basketball – playing pokemon on my phone at 200% speed (because i have no time to lose) – friends dinners/masturbating (not at the same time, of course) – curating playlists and/or listening to the same song on repeat – sex – play loud metal and rock music & sports – bathtub & a glass of wine… Or two – sushi sushi sushi – dancing solo salsa in my apartment with music at full volume – baking, eating, art projects, getting pissed off, crying it out, then apologising, watching sad movies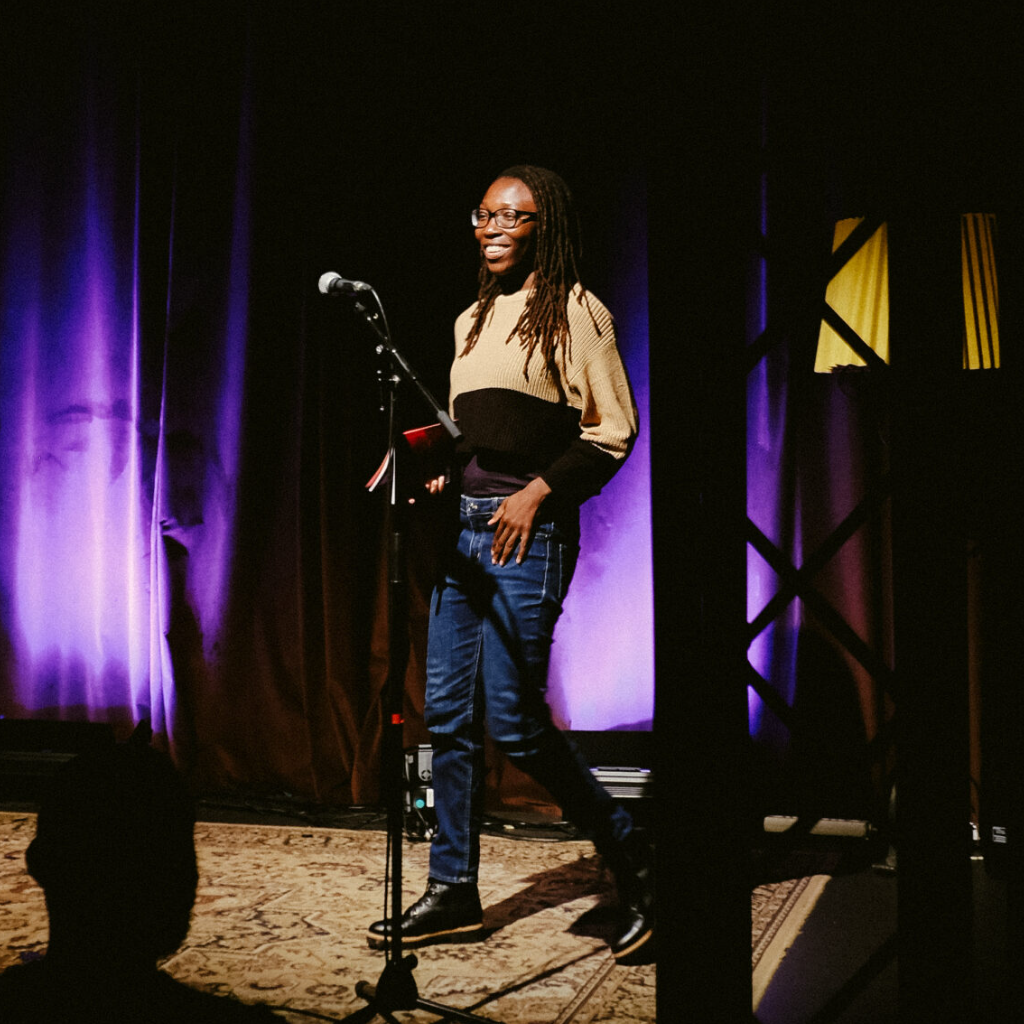 Nikitta Adjirakor reads from her creative nonfiction piece "Bodies of Loss" at the SAND 23 launch in Berlin.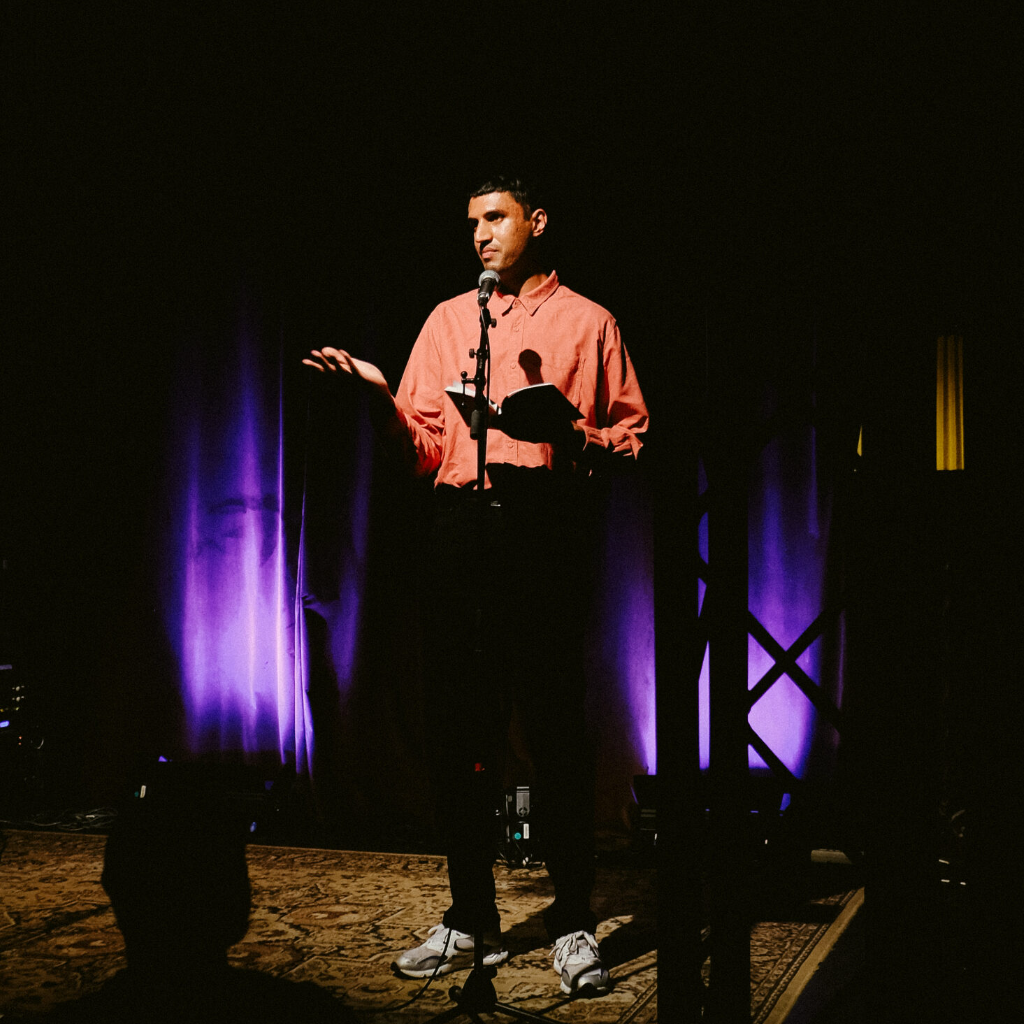 Gurmeet Singh reads from his short story "The Fun Car" at the SAND 23 launch in Berlin.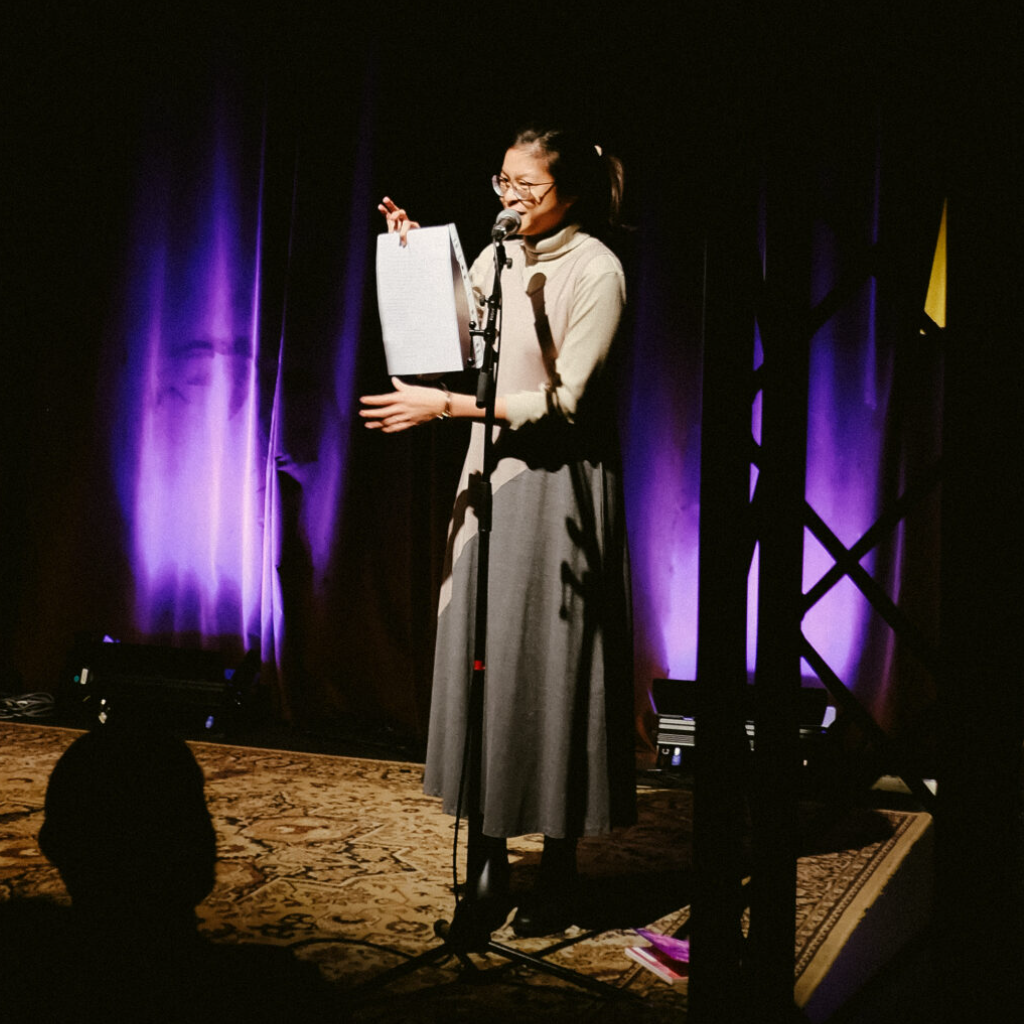 Winifred Wong reads "Forgive Me For My Fervent Excavation of You" at the SAND 23 launch in Berlin.
OUR VIRTUAL LAUNCH CONTRIBUTORS
Larissa Barddal Fantini is the artist behind SAND 23's stunning cover art, a piece inspired by a 1968 song by Geraldo Vandré, which condemned Brazil's merciless military dictatorship and appealed for peaceful resistance.
Larissa Barddal Fantini is an artist, writer and teacher. She has exhibited her work in Brazil, France, Germany, and Sweden. Her work encompasses politics, popular culture, themes of the domestic, and intimacy, amongst others. She is the co-creator of 75m2, an independent art platform. Born in Curitiba, Brazil, Larissa has lived throughout Brazil, Indonesia, China, Uruguay, and France. She graduated in May 2017 from Paris College of Art with a bachelor of fine arts. Follow her on Instagram.
Shida Bazyar's German-language novel Drei Kameradinnen (Sisters in Arms) was long listed for the prestigious German Book Prize 2021. SAND 23 includes the first published excerpts of the novel in English, translated by Ruth Martin.
Ruth Martin studied English literature before gaining a PhD in German. She has been translating fiction and nonfiction since 2010, by authors ranging from Joseph Roth and Hannah Arendt to Nino Haratischwili and Volker Weidermann. Ruth has taught translation to undergraduates at Birkbeck and the University of Kent, and was a tutor at the 2021 Bristol Translates summer school. She is also a former co-chair of the Society of Authors Translators Association. Follow her on Twitter. 
Shida Bazyar, born in 1988, studied literary writing in Hildesheim, and, in addition to writing, worked in youth education for many years. Her debut novel Nachts ist es leise in Teheran came out in 2016, won the Blogger Literary Award, Ulla Hahn Prize, and Uwe Johnson Prize, among other awards, and has been translated into Dutch, Farsi, French, and Turkish.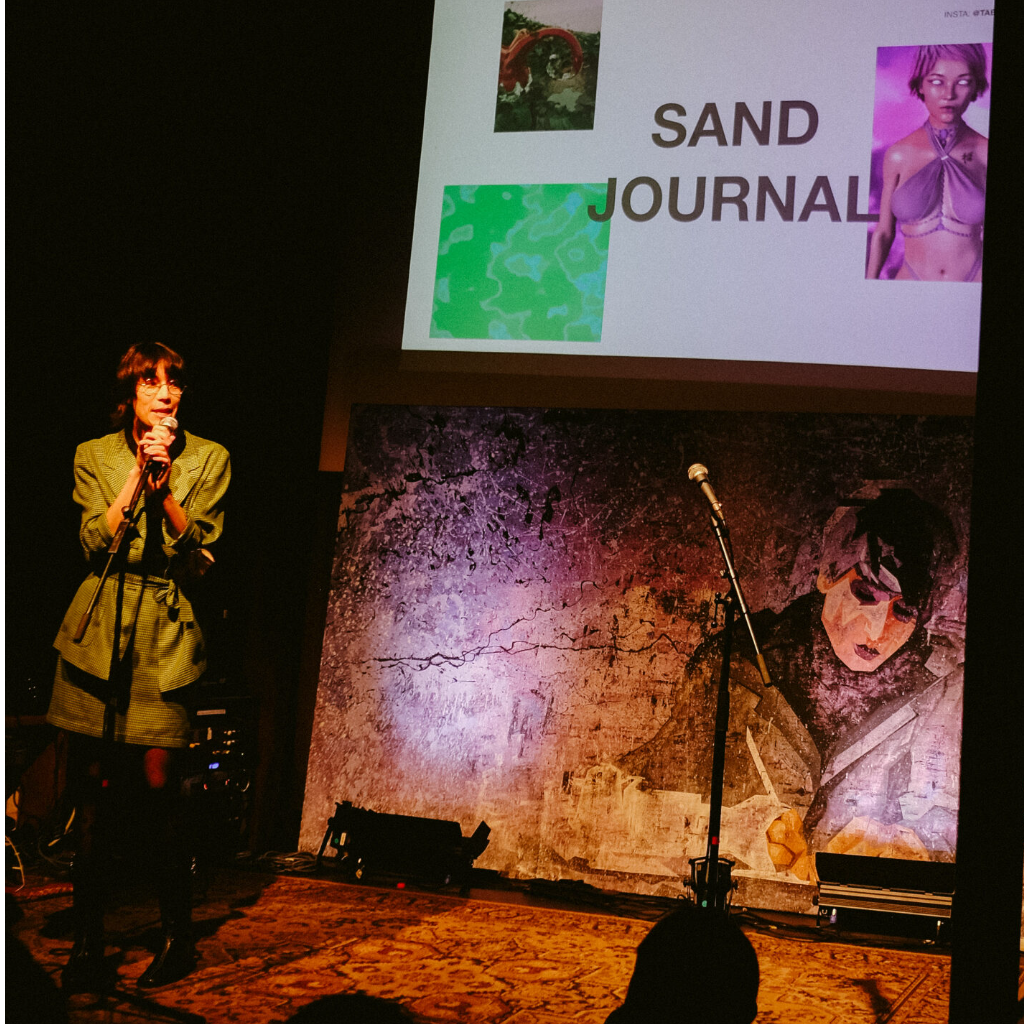 Tabitha Swanson presents her art in SAND 23 at the in-person launch in Berlin on 5 November 2022.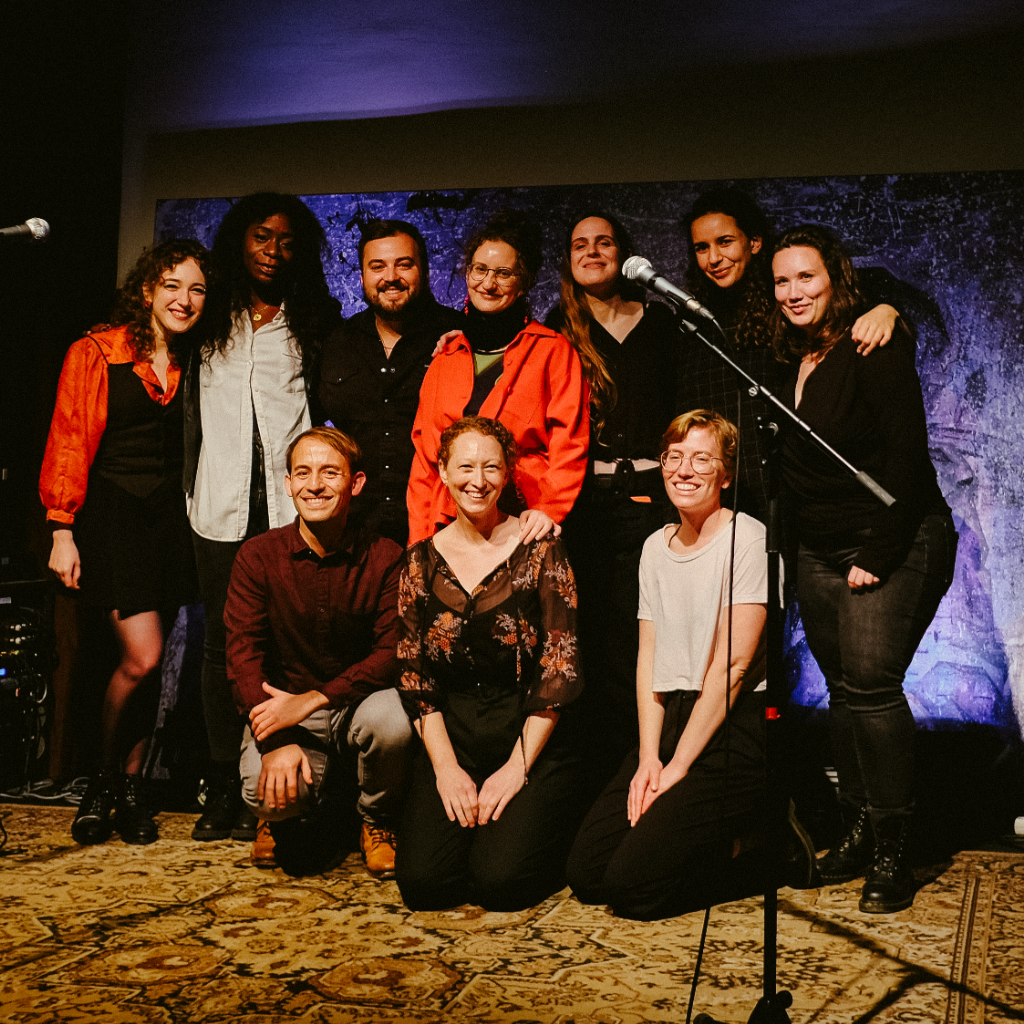 SAND's team gathers for a group photo after the SAND 23 launch in Berlin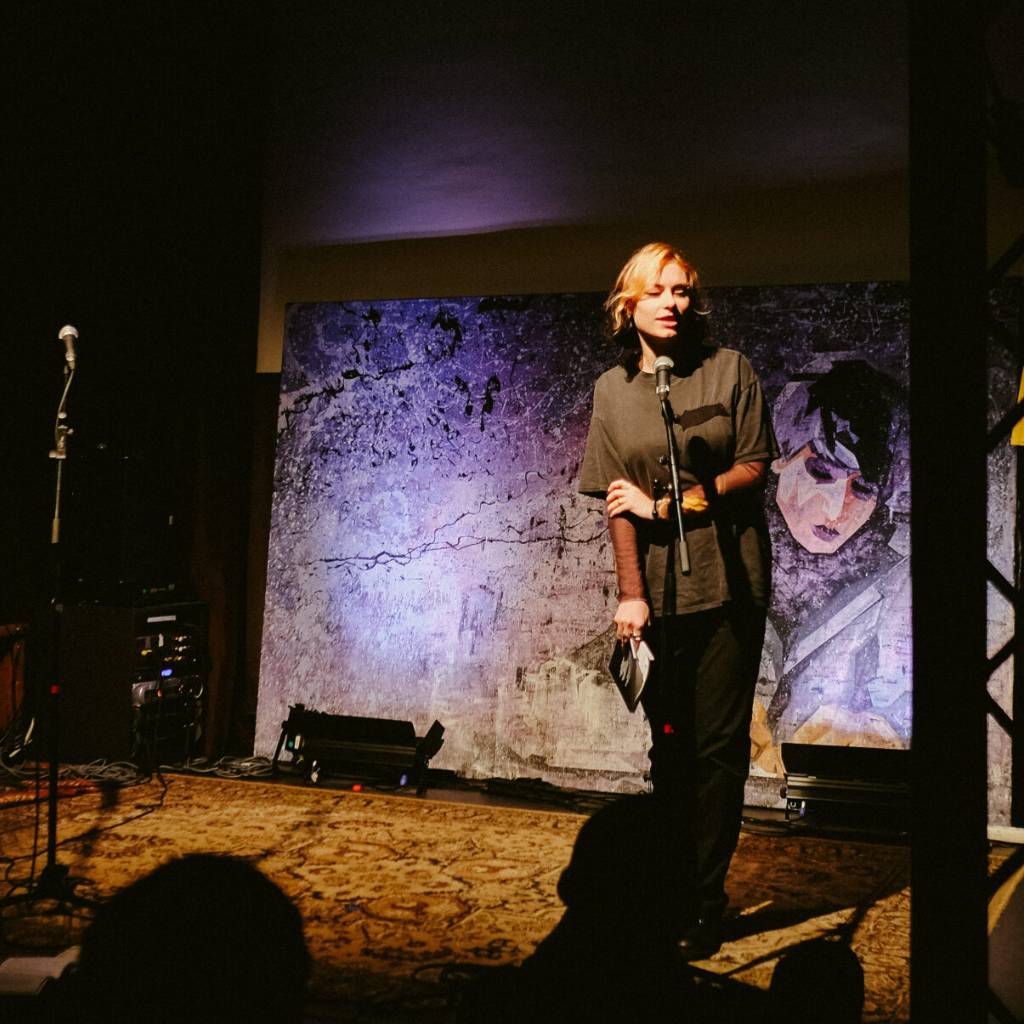 Lizzy Yarwood reads hybrid flash fiction and poetry from SAND 21, our first issue without a physical launch.
Miriam McEwen is the author of "We Are Not Love Machines," a flash fiction piece that juxtaposes cynicism with levity to explore the humor-in-the-danger and the danger-in-the-humor of internet dating, hiking in wheelchairs, and sexual hopes and fears.
Miriam McEwen writes about disability and bodily autonomy. She holds an MFA in Writing from Vermont College of Fine Arts. She is an associate editor at the South Carolina Review and a co-editor for The Swamp. Miriam's work has appeared or is forthcoming in Under the Gum Tree, Madcap Review, and South Carolina Review, among others. She lives in the foothills of South Carolina.
Keegan Lawler's "A Litany for Stolen Men in Three Attempts" is at once a reminder that "Boys who like boys can always be stolen" and a call for praise of those same boys: "Praise be to your blood/ no need to purify/ carrying all the brief air/".
Keegan Lawler is a writer currently living in Washington State with his partner, their two basset hounds, and their cat. His writing has appeared or is forthcoming from the Offing, Homology Lit, SAND, the Los Angeles Review, and the Home is Where You Queer Your Heart anthology from Foglifter Press.
Sihle Ntuli's poem "Robin ThirdFloor" is a contrapuntal poem, a form of poetry that combines or interweaves multiple poems to create a new work. The formatting and shape of this poem also allow it to be read myriad ways so that the singular poem (from multiple poems) gains another level of multiplicity.
Sihle Ntuli is poet and classicist from Durban. He holds a Master of Arts degree in Classical Civilisations and has lectured previously at the University of the Free State. He is the author of Rumblin (uHlanga 2020) and has had work published in notable publications such as Lolwe & The Rumpus. His poetry was shortlisted for the DALRO Poetry Prize in 2017. Follow him on Instagram and Twitter.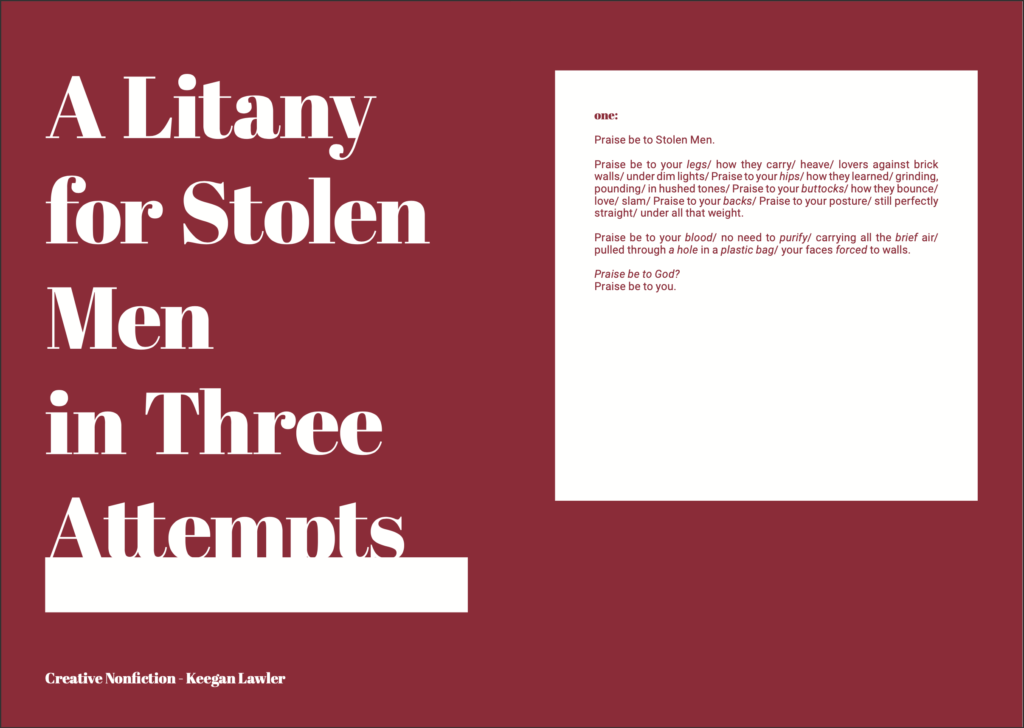 Preview of "A Litany of Stolen Men," creative nonfiction by Keegan Lawler in SAND 23.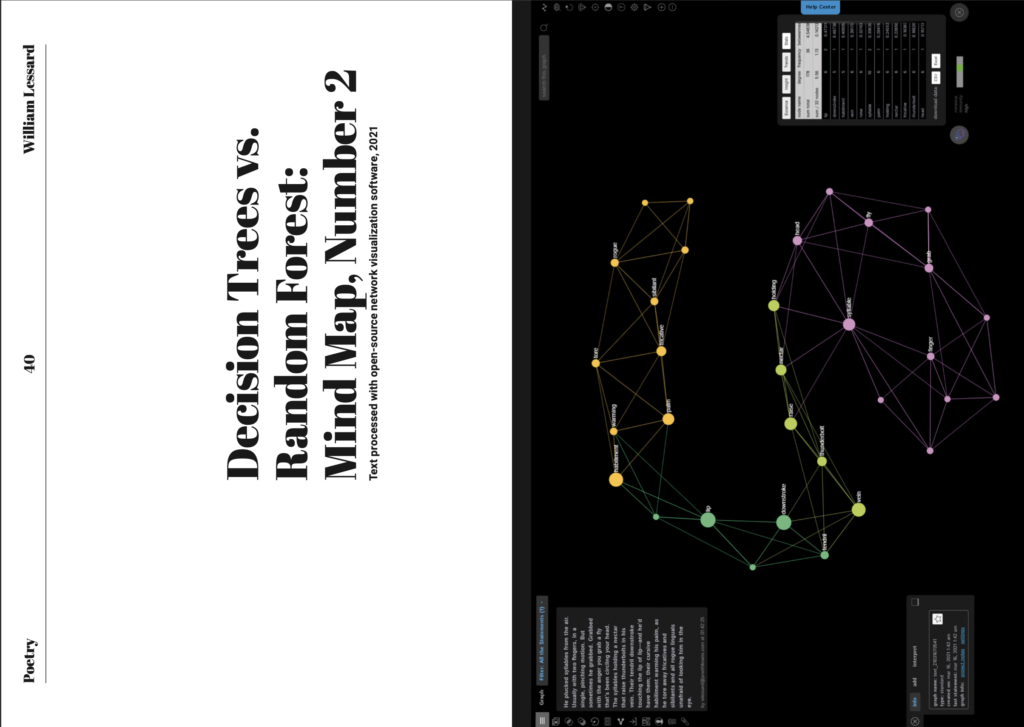 Preview of "Decision Trees vs. Random Forest: Mind Map, Number 2," a hybrid poem by William Lessard.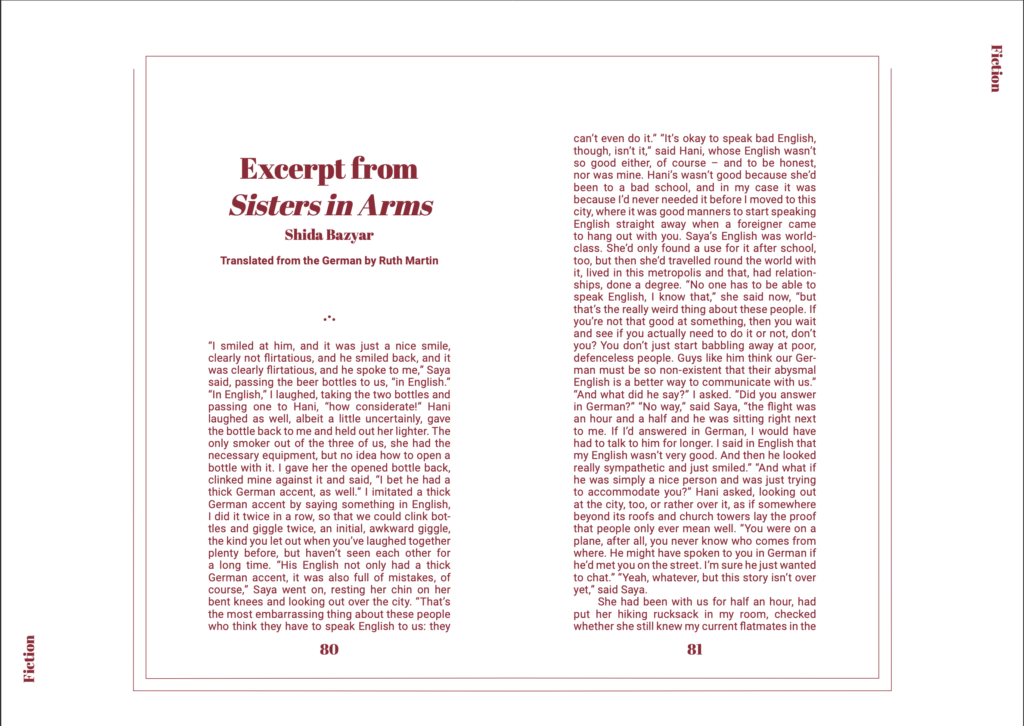 Preview of an excerpt from Sisters in Arms by Shida Bazyar, translated by Ruth Martin in SAND 23.
Maeve McKenna's poem "Gerard's" is both a celebration of and an elegy for a complex person and a close relationship.
Maeve McKenna lives in rural Sligo, Ireland. Her poetry has been placed in several international poetry competitions since 2018. Work published can be found in Mslexia, Orbis, Channel Magazine, Fly on the Wall, The Haibun Journal, Bloody Amazing Anthology, Culture Matters A Working Class Anthology Of Prose Writing, among others. Her poems have appeared widely online. Maeve was a finalist in the Eavan Boland Mentorship Award and a recipient of a John Hewitt Summer School Bursary, both in 2021. Maeve's debut chapbook, A Dedication to Drowning, will be released on 18 February 2022.
William Lessard's poem "Decision Trees vs. Random Forest: Mind Map, Number 2" combines technology, image, and text to create a poem from text processed with open-source network visualization software.
William Lessard has writing that has appeared or is forthcoming in American Poetry Review, Best American Experimental Writing, FENCE, and the Southwest Review. He is Poetry & Hybrids editor at Heavy Feather Review.