9 March 2018
Stadtsprachen Magazin and SAND
Present a Reading with
Elnathan John and Kinga Tóth
 
What languages does Berlin write in? The PARATAXE event series showcases Berlin authors who write in everything but German. In the March 2018 edition, Martin Jankowski introduced readings by the Nigerian novelist and satirist Elnathan John and Hungarian sound poet and illustrator Kinga Tóth.
Date: Friday, 9 March 2018 at 8pm
Location: English Theatre Berlin, Fidicinstr. 40, 10965  
Transportation: U6 Platz der Luftbrücke, U7 Mehringdamm
Admission: €5 regular, €3 reduced
We last collaborated with Parataxe in September, co-presenting a reading with Marie-Pascale Hardy and Brygida Helbig.
Elnathan John is a writer and lawyer living between Nigeria and Germany. Mostly. His works have appeared in Hazlitt, Per Contra, Le Monde Diplomatique, FT and the Caine Prize for African Writing anthologies of 2013, 2014, 2015 and 2016. He writes a weekly political satire column for the Nigerian newspaper Daily Trust on Sunday. He has never won anything. This record was almost disrupted by the Caine Prize when they accidentally included his story on the shortlist in 2013 and again in 2015. Of course, both times, he did not win. He has been shortlisted and longlisted for a few other prizes, but he is content with his position as a serial finalist. It is kind of like being a best man at a wedding – you get to attend the ceremony but you can get drunk, sneak off and hook up without anyone noticing because after all, you are not the groom. In 2008, after being lied to by friends and admirers about the quality of his work, he hastily self-published an embarrassing collection of short stories which has thankfully gone out of print. He hopes to never repeat that foolish mistake. His novel Born On a Tuesday was published in Nigeria (in 2015), the UK and US (in 2016) and will be available in German in 2017.
Here is an interview with Elnathan in The Guardian about religion, satire, and his debut novel.
Back in 2015, long before the travel ban and a certain unprintable comment about his continent, Elnathan published a travel advisory warning Nigerian citizens against visiting the United States.
Kinga Tóth was born in Sárvár, Hungary in 1983. She is a linguist, teaches German language and literature, works as a communications specialist and is an editor at the art magazine Palócföld. Tóth describes herself as a (sound) poet and illustrator. She is also the lead singer and songwriter of the Tóth Kína Hegyfalu project and a board member of the József Attila Circle for young writers, among other projects and associations. Her poetry was featured in English translation in Poetry magazine. In Hungarian, her writing has appeared in the likes of Palócföld, Prae.hu, Pluralica, Árgus, Irodalmi Jelen and Irodalmi Szemle. Tóth is a participant in the author exchange program between the Akademie Schloss Solitude and Budapest's young literary scene. Her books include Zsúr (Party, 2013) and All Machine (2014). Currently she is working on her newest book The Moonlight Faces.
Read some English translations of her poems here, from Poetry magazine (!).
Here are some photographs of the event taken by the wonderful Graham Hains: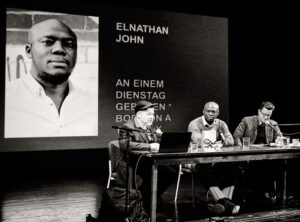 PARATAXE (supported by the Senatsverwaltung für Kultur und Europa) and stadtsprachen magazin jointly introduce today's multilingual authors and literary scenes of Berlin.