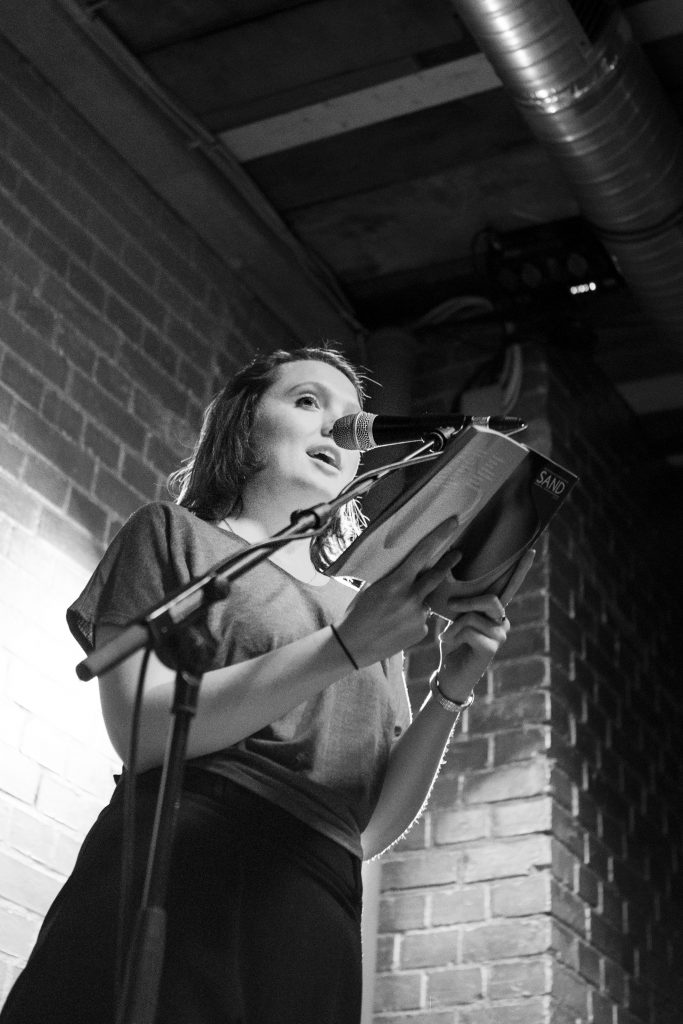 19 May 2017
Issue 15 Launch Party
at Badehaus Berlin
A Berlin spring means
brighter days, canal-side beers,
and fresh new writing from SAND!
SAND Issue 15 takes us from a remote Arctic island to a land of eternal springtime, stopping off at all kinds of weird and wonderful places along the way. We launched it into the world on Friday, 19 May, at Badehaus Berlin.
DOORS
READINGS
DANCING
ADMISSION
LOCATION
8:30pm
9pm
Until the sun comes up
4 euros
Badehaus Berlin
Revaler Str. 99, 10245 Berlin
(in the RAW-Gelände – enter across from Simon-Dach-Str.)
S/U Wahrschauer Str., M10 Revaler Str.
Readers
Avital Gad-Cykman's
flash collection Life In, Life Out was published by Matter Press. Her stories have been published in The Literary Review, Ambit, CALYX Journal, Glimmer Train, McSweeney's, Prism International, Michigan Quarterly Review, and elsewhere. They have also been featured in anthologies such as W.W. Norton's, Sex for America, Politically Inspired Fiction, Stumbling and Raging, The Flash, and The Best of Gigantic. Her work won the Margaret Atwood Society Magazine Prize, was placed first in The Hawthorne Citation Short Story Contest, and was a finalist for Iowa Fiction Award for story collections. She lives in Brazil.
Ellen Joan Harris
is currently studying for her masters in Creative Writing at Goldsmiths College.
She lives and writes in London.
Zoë Hitzig
is an American graduate student at the University of Cambridge.
Her poetry has recently been published or is forthcoming in Lana Turner, the New Yorker, Boston Review, and the New Statesman among other journals.
Charlotte Wührer
is from the almost-north of England.
She has been living in Berlin for five years, where she is currently working as a freelance translator and studying for an MA in English studies. In 2016, she was short-listed for The Reader Berlin/EXBERLINER's Summer Short Fiction Competition. She was also long-listed for Mslexia's Children's Novel Competition for Gingerbread Woman, a queer coming-of-age novel for young adults. Her work can be found in print in FU Review and Berlin Unspoken, and online at Potluck Mag and Leopardskin and Limes. Sometimes she writes for Daddy Mag.
Music
James Falco • TEEROC & WLFGNG (Spät Shop Boys) • Maurice James • Anton
Photos
All photos below taken by Anjula Schaub and presented here with our gratitude.